Woodbridge By Robert Mondavi Pinot Noir |
Regular price
$21.97
Sale price
$18.97
Unit price
per
Sale
SOLD OUT
Woodbridge by Robert Mondavi Pinot Noir Red Wine offers a bright, fruit-forward glass of wine with strawberry and cherry aromas set off by a hint of spice and toast. Ripe cherry flavor and rich cocoa stand out in this full-bodied California red wine that culminates in a velvety, smooth finish. Sourced from the region of Lodi, these pinot noir wine grapes are grown by local producers and processed with Woodbridge's unique growing techniques and state-of-the-art technology for winemaking.
Enjoy this Woodbridge wine on its own, or pair it with light meat dishes, pork chops or even pasta with red sauce. Keep this wine stored at room temperature, but let it chill in the refrigerator for 30 to 60 minutes before serving it cool for that perfect taste.
A well-balanced wine with aromas of cherries and orange peels. This elegant wine is round on the palate, with flavors of berries and cocoa, and a touch of spicy, toasty oak from barrel aging.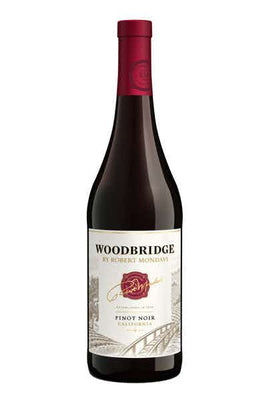 WE'RE ON INSTAGRAM