Willett Bourbon Pot Still Reserve |
Regular price
$61.97
Sale price
$57.97
Unit price
per
Sale
SOLD OUT
Willett Pot Still Reserve Bourbon is a bourbon whiskey produced in Bardstown, Kentucky by Kentucky Bourbon Distillers, Ltd. (KBD). It is a Single Barrel Kentucky Straight Bourbon Whiskey introduced in 2008 and bottled at 47% abv, with 8-10 year aging. It is sold in glass 750ml and 1-liter bottles. Each bottle is sealed with a label identifying the individual aging barrel, the number of the bottle within the series of bottles for that barrel, and the total number of bottles from the barrel (example: "Bottle No. 116 of 242 from Single Barrel 149"). The KBD company is identified on the product label as the Willett Distilling Company, which was the original name of the company until its name was changed in 1984.
ColorMahoganyNoseIntensity – 2; Floral notes – jasmine & orange blossoms, ginger, cinnamon, lots of bananas when water is addedPalateLemon, black tea, butterscotch, citrus, nutty, honey... With water added, bananas & milk chocolateFinishLength – Medium; Eucalyptus, herbal, rye, spicy, pepper, barber's shop… With water added, light toffee & pecans
Bottled in a very unique and classic pot still decanter. The nose is delicate and refined and the palate is quite graceful. An easy drinking whiskey. A nice counterbalance of flavors with the different grains lending an equal amount of creaminess, spiciness and floral elements. On the finish there is a mint presence, some nice spiciness and a wonderful earthy woods characteristic reminiscent of a campfire.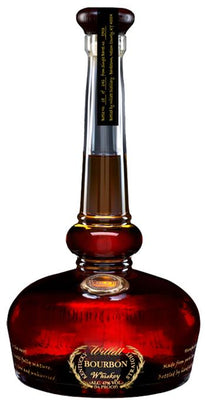 WE'RE ON INSTAGRAM