White Oak Whisky Akashi |
Regular price
$56.97
Sale price
$52.97
Unit price
per
Sale
SOLD OUT
Due to Akashi City's unique climate, with extremely hot summers and cool winters, as much as 7%-8% of Eigashima's maturing whisky may be lost to evaporation each year, as opposed to the 2% commonly seen in Scotland.
While this lowers still the overall production yield, it also acts as a catalyst for the maturation process, as the temperature swings encourage interaction between the whisky and the wood. As a result, Akashi White Oak Japanese Whisky has a malty, citrusy aroma with scents of black cherry, toffee and oak.
Notes of vanilla and pine nuts dominate the palate, and lead to a long, malty finish.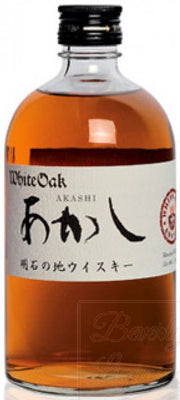 WE'RE ON INSTAGRAM