White Beau Pere Bordeaux 2013 |
Regular price
$9.97
Sale price
$7.97
Unit price
per
Sale
SOLD OUT
The Bordeaux wine region is most for the production of red Bordeaux wine. That is not in question. However, Bordeaux also produces close to four million cases of white Bordeaux wine per year. In fact, close to 10% of all Bordeaux wine is white. It's important to note, that was not always the case. Not that long ago, up until the late 1950's, close to 50% of all the wine produced in Bordeaux was white.
As you know now, that is no longer the case. What is interesting to know is that the change in the grapes planted in Bordeaux took only a few decades. The move to producing mostly red Bordeaux wine began taking place after the devastating frost of 1956. The frost, coupled with consumer demand and better knowledge of the soils and terroir led to a complete replanting for much of the Bordeaux wine region.


White Bordeaux wine is complex and age worthy. When young, tasters enjoy pronounced sensations of flowers, citrus, vanilla, lemon, crushed rocks, grapefruit and lime. As white Bordeaux wine ages, the color deepens and the wine takes on additional characteristics of freshly cut lawn grass, honey, minerality, spice and butterscotch.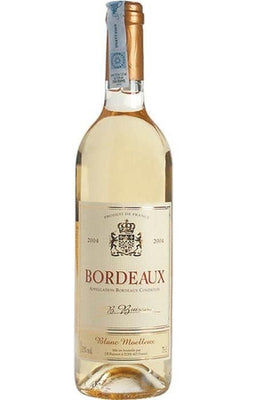 WE'RE ON INSTAGRAM