The Macallan Scotch Single Malt 15 Year Double Cask |
Regular price
$178.97
Sale price
$179.97
Unit price
per
Sale
SOLD OUT
The first ever Double Cask 15 Year Old is the perfect marriage of classic Macallan style and unmistakable sweetness of American Oak aged in hand crafted Sherry Seasoned European and American Oak. The oak casks make the greatest contribution to quality, natural color, & flavor.
The palate is wonderfully luscious, supple, and chewy, delivering mouth-coating waves of fruit that remain for minutes on end, before a long farewell of lingering, warming spice. Impressive and irresistibly good.
The first of the new whiskies, the Double Cask 15 Years Old, has a golden butterscotch color and an aroma that features a fruity aroma that has hints of toffee, vanilla, honey, chocolate and oak. Its older sibling, the Double Cask 18 Years Old, has an amber honey tint and smells of dried fruits, ginger, toffee and has a hint of clove.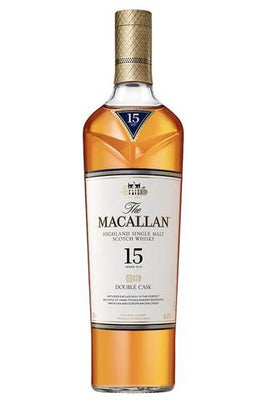 WE'RE ON INSTAGRAM