The Balvenie Scotch Single Malt 26 Year A Day Of Dark Barley |
Regular price
$1,196.97
Sale price
$1,123.97
Unit price
per
Sale
SOLD OUT
The Balvenie A Day of Dark Barley is an exciting new whisky from one of our favourite Speyside distilleries. It was the result of an experimentation by Malt Master David C. Stewart in 1992. He chose to use a rather unusual batch of dark, brittle barley to see what effect it had on the whisky. It was then left to mature for a whole 26 years before being ready for the bottle and released as part of the popular Balvenie Stories series.
Nose: Big malty notes, soft brown sugar, vanilla toffee, blossom honey and a mild oaky spiciness.
Palate: Syrupy with a toffee sweetness, some citrusy notes of tangy orange peel, followed by oak vanilla and a touch of cinnamon and ginger spices at the end.
Finish: Enduring gentle waves of vanilla and oak spices.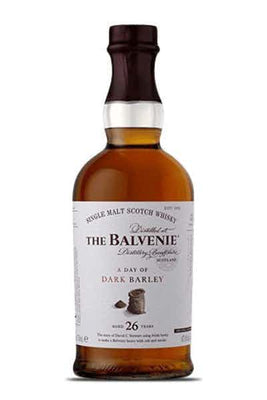 WE'RE ON INSTAGRAM