Regular price
$36.97
Sale price
$34.97
Unit price
per
Sale
SOLD OUT
A mix of heavy bodied Wedderburn style rum and medium bodied Plummer, Smith and Cross is an excellent Jamaican rum that's making waves in the bar world. Bottled at 57%, navy strength, and intensely flavoured, this works well in cocktails but also has a d epth that rewards those who like to sip their rum.
The great tradition of this style is reflected in the famous drink recipes that call specifically for Jamaica rum. Make no mistake, this is not a sipping rum by contemporary standards. Upon initial po ur, allow a minute to open up before tasting. We suggest exploring the profile first in the Jamaica Rum Daquiri (see sidebar) and from there to other classics.
Through the 19th century and into the earlier 20th century, Jamaica Rum was revered for it s deep full flavors and pleasing aromas. In this era, rum fell into three general classes, Local Trade Quality, Export Trade Quality (mainly an ester-intensive "High Continental" style for the German market), and Home Trade Quality for UK (an d US) consumption. In the mid 20th century appeared the more familiar "Common Clean" light and/or sweeter styles on offer today, made with the column-still product introduced in the late 1950s. The heavier bodied Wedderburn and medium bodied Plummer styles were made with a combination of the molasses, skimmings, cane juice, and syrup bottoms from sugar production, and the dunder of the previous rum production. A Jamaica tradition has been the use of wild yeasts indigenous to the region in th e fermentation process, which is arguably a major contributor to the special body and flavor. The end result is a rum of tremendous and local character.
57% ABV (50% by weight, or 100° English proof) was the traditional strength required by the Br itish Royal Navy. At this proof a spill of the spirits would not prevent gunpowder from igniting. As important, this degree of concentration provided an efficiency in conveyance on board and onward to trading partners far away. Navy Strength should not b e confused with Navy Rum, which was for over 200 years a daily ration in the British Royal Navy, and traditionally composed of rums principally from Guyana, also Jamaica and Barbados.

Customer Reviews
Write a Review
Ask a Question
Filter Reviews:
experience
problems
Wine Chateau
gang
toys
Smith & Cross
dust
whiskies
05/08/2021
Riley

United States
That good funk
Smith & Cross has overtaken my favorite whiskies to become the centerpiece of my bar. It's my go to old fashioned. It's just the toys, gang.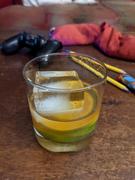 12/25/2020
Anonymous

United States
Delicious!
Good experience. No problems.
06/02/2020
Jeffrey L.

United States
Easy to work with
Once all of the dust settled the experience was great will be using Wine Chateau in the future!
WE'RE ON INSTAGRAM