Midleton 'Very Rare' 2019 Vintage Release |
Regular price
$336.97
Sale price
$259.95
Unit price
per
Sale
SOLD OUT
Midleton Very Rare is one of the most exclusive whiskeys ever produced in Ireland. Exclusively matured in American oak barrels, this whiskey is only available in strictly limited quantities as just a small number of casks are personally selected by the Master Distiller, Brian Nation. (Prior to 2014 the Master Distiller was Barry Crockett). An annual selection since 1984 and thus, very collectable, each bottle is individually numbered and bears the signature of the Master Distiller as a final guarantee of outstanding quality.
AROMA
A delicate introduction of Sweet Mandarin Orange Citrus with Green Banana and Vanilla. The light Herbal notes develop until the typical Pot Still Spices, including Cardamom, Nutmeg and Peppers, show the signature Midleton style. Whilst a touch of Cedarwood and Charred American Oak add to the complexity.
TASTE
The smooth initial mouthcoating is initially sweet with Vanilla and red Apple, before the more robust spices, Cinnamon and Clove with a slice of Root Ginger, show their presence. There is a polished Antique Wood contribution from the Barrels alongside some light Tannins and Charred Oak.
FINISH
The finish is extra long as the spices subside giving way to Green Fruit and Stalks of Barley.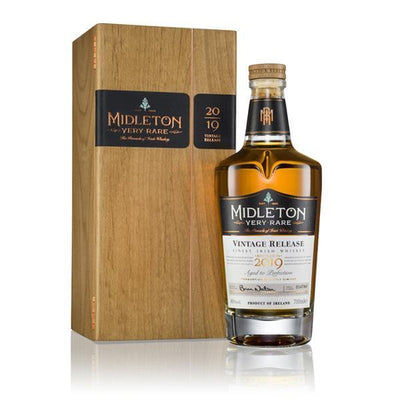 WE'RE ON INSTAGRAM