Larressingle Armagnac Napoleon |
Regular price
$85.97
Sale price
$80.97
Unit price
per
Sale
SOLD OUT
The aroma is resiny, with just a hint of vanilla. The dry palate shows a similar effect, opening with resin and cedar, plus a dusting of cocoa and a floral hint. The spiced exhale offers clove, black pepper, cayenne, leather and a hint of honey.
Masterfully crafted and decadently flavored, the Larressingle Napoleon Armagnac is a bold and sinfully satisfying armagnac brandy that's second to none. This French armagnac is brimming with hints of cedar and oak topped with a dusting of sweetness to make every sip more sinful than the last. The Larressingle Napoleon Armagnac is the perfect treat for an avid brandy lover -- whether you choose to enjoy it alone or in the company of those you love most.
The nose reveals notes of macerated fruits topped with distinct whiffs of oak to excite the senses. The palate is laced with hints of cayenne, black pepper, leather, oak, cloves, and subtle floral notes with a dusting of cocoa towards the end. The Larressingle Napoleon Armagnac boasts of a complex and hearty finish that is guaranteed to delight even the most discerning armagnac aficionado.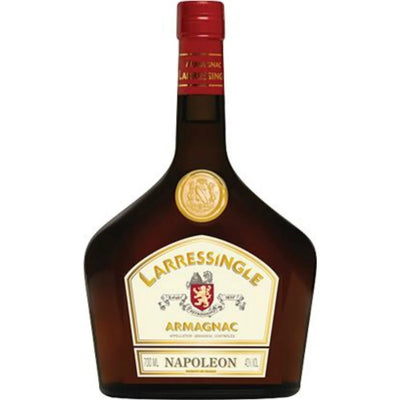 WE'RE ON INSTAGRAM