Knob Creek Bourbon Small Batch |
Regular price
$52.97
Sale price
$39.95
Unit price
per
Sale
SOLD OUT
Wine Enthusiast 90 points - Smells of sweet corn, buttered popcorn and pistachio nuts in the early stages; later whiffs pick up well-endowed scents of sauted butter, oaky vanilla, beeswax and linseed oil. Palate entry is full-bodied, sweet and honeyed; at midpalate the taste profile turns drier, more intensely grainy-mashy and breakfast cereal-like. Finishes with notes of nougat, almonds, candy bar, and oak. Best Buy. - Paul (6/1/2005) - 90-95: Superb/Highly Recommended.June/2005
Ultimate Beverage Challenge 94 points - A beautifully fragrant nose of smoked jerky, toasted biscuit, and raisin cookie introduce this lightly spicy bourbon. The full bodied mouthfeel has a gentle sweetness that ends in a triumphant burst of spice cake and saddle leather..March/2017
Whisky Advocate 90 points - Knob was one of the first bourbons I had when I started taking whiskey seriously, and it's still a kicker. No-nonsense, flint-hard nose: slickly-polished oak furniture, cinnamon stick, cracked rye, wet cornmeal, hard candies. Bang! A lean whiskey that gets in your mouth and explodes with rye spice and cinnamon candy, a sharp wedge that opens you right up. The finish echoes: oak, a dying fire, clean and almost crisp. Emphatic, bright, and swift. Value Pick.September/2014
The original that started it all, Knob Creek® Kentucky Straight Bourbon Whiskey is still made to exacting standards. Knob Creek® is aged to fully draw out the natural sugars in its charred white oak barrels. This exceptional, full-bodied bourbon strikes the senses with an oak aroma, a sweet, woody, full-bodied, almost fruity taste, with a long, rich finish. Created to reflect the flavor, strength, care, and patience that defined whiskey before Prohibition, Knob Creek® is perfect neat or on the rocks with one or two ice cubes. Knob Creek® is part of The Small Batch Bourbon Collection®. Explore the entire Knob Creek® Family for yourself and discover what whiskey was meant to be. Extra aged for a richer taste 100 proof reflects the strength, patience and flavor defined in pre-prohibition whiskey Perfect for sipping or in an Old Fashioned Highest level char American Oak barrels give the biggest flavor possible Maple sugar aroma, distinctive sweetness and a rich, woody, caramel flavor Hand-crafted in limited quantity for superior taste and smoothness Kentucky Straight Bourbon Whiskey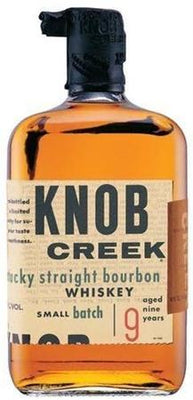 Customer Reviews
Write a Review
Ask a Question
03/07/2021
Anonymous

United States
Traditional True Blue Bourbon from True Blue vendor
What's not to like about Knob Creek. But you have to love shopping for it and other spirits or wine at Wine Chateau. Their web site is easy to use, and they are responsive, have great customer support, and excellent pricing.
01/06/2021
Mark H.

United States
Poor Service
Still has not been delivered to the customer and ordered more than 10 days ago
You made being a Secret Santa easy
I purchased this product as a Secret Santa gift for a colleague. Ordering was easy and straightforward, prices were good, and the shipment arrived quickly despite the busy holiday season. I expect to be using this company again.
WE'RE ON INSTAGRAM