Regular price
$47.97
Sale price
$45.97
Unit price
per
Sale
SOLD OUT
Few Gin Barrel
A fantastic American gin aged in oak barrels. FEW Barrels has subtle notes of fennel and peppery spices. A gin for whisky lovers with a juniper bite. 
Taking their name from Frances Elizabeth Willard, a key figure in the Temperance Movement, FEW Spirits are a new take on timeless distilling techniques, and transcend the oft-ordinary taste we've all grown accustomed to. Distilled from the very best grains, aged to perfection, and bottled under their own roof, FEW remains in their own hands until distribution. 
FEW Barrels exudes subtle notes of fennel and peppery spices while a smokey smoothness from the charred barrel permeates the juniper. This barrel-aged spirit tastes like gin, but has the maturity of a bourbon.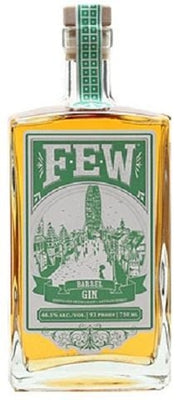 WE'RE ON INSTAGRAM