Early Times is crafted from a traditional whisky mashbill, or recipe, of corn, rye and malted barley. Rye adds a spicy, lively character to whisky. Corn adds sweetness. Malted barley gives it a malty, cocoa, cereal taste. The Early Times mashbill contains more rye than many other whisky recipes. Only charred American white oak barrels are used to mature Early Times. Each barrel is toasted and charred so the new whisky can develop an even greater range of taste, aroma and characteristics. The toasting process sets up the rich vanilla flavor found in Early Times, while the charring process caramelizes the white oak's natural wood sugars into a layer of flavor we call "red layer.Color: Light, bright honeyNose: A fresh, sharp oak note ripens into a dry clove spice and hay, hints of leather, dill spice and fruit add complexity to a subtle foundation of white chocolate.Taste: Smooth and creamy malt character with a light oak sweetness and herbal grass notes.Finish: Mild and clean, and fulfilling with a very pleasant, soft, apple peel character.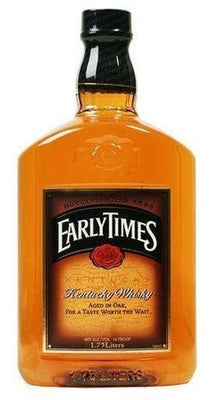 Customer Reviews
Write a Review
Ask a Question
Filter Reviews:
fire
trace
sweet corn
corn
mash heavy
experts
brew
three
same
somewhere
11/19/2020
bill g.

United States
A whisky indicative of early American mash and distilling
I realize this whisky is not technically a bourbon ;however, it is what it is.....a mash heavy in corn not aged more than three years .It is a good sipping whiskey with a lingering finish of sweet corn and some oak....the nose and palate suggest the same.........experts seem to like cutting it down but what can I say..I like it ...sipps well by a fire and also mixes well........there might be a trace of rye somewhere in the mix..not sure........not complex ..just a good brew to enjoy.
WE'RE ON INSTAGRAM