Domaine du Gros' Nore Bandol Blanc 2019 |
Regular price
$51.97
Sale price
$44.97
Unit price
per
Sale
SOLD OUT
A pale wine, this is a bit shy on the nose. The palate is herby and nutty with a touch of citrus fruit, but it's a little bit neutral. Fresh and clean, and somewhat anonymous. May age nicely though. 
There's a little more on the nose here, but it's still quite shy. The reasonably dense, herby palate shows a touch of citrus fruit. This is a nice, full flavoured white.
A svelte, rich and powerful white from the south of France, this delivers razor-sharp flavors of apple, pear, gooseberry and mango, with hints of smoke and spice. Clean and precise on the finish.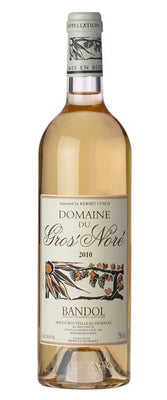 WE'RE ON INSTAGRAM