Diamond Distillery Rum 14 Year By Cadenhead |
Regular price
$115.97
Sale price
$98.97
Unit price
per
Sale
SOLD OUT
Aroma: Gingerbread, aromatic notes in abundance, orange juice and lightly burnt caramel.
Palate: Still caramel, clove and a pinch of pepper.
Finale: Delicate and persistent spices combined with toffee.
The nose on this MPM rum is quite fruity. White grapes, fleshy, not quite ripe peaches, unsweetened notes of orange peel – marmalade and lime zest. Further nosing reveals a slight mustiness – some mushrooms and some sharp oak tones. Despite all this it's quite a light rum with a lot of fruitiness going on. Quite approachable for a Cask Strength rum.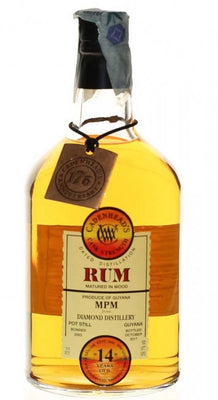 WE'RE ON INSTAGRAM