di Amore Liqueur Raspberry |
Regular price
$15.97
Sale price
$14.97
Unit price
per
Sale
SOLD OUT
Delicious, dark, passionate. The flavor of sweet, ripe black raspberries is captured in Raspberry di Amore. Sip it from a cordial glass, add a dash to champagne, use it in a Cosmopolitan or flavor a martini with it. Find love, elegance and romance.Amaretto di Amore has been around a while and Amaretto itself has history going way back. You have definitely either seen it in a bar or drank it in a cocktail. Amaretto is defined by most sources as an Almond-flavored Liqueur made from either Almond or Apricot pits. Turns out they have a similar flavor. The origin of Amaretto is in Italy, however there are several brands produced in America and other lands around the world. Amaretto di Amore's label (from my older bottle) says it is produced by the Barton Distilling Company which appears to have been acquired by the Sazerac Company in early 2009.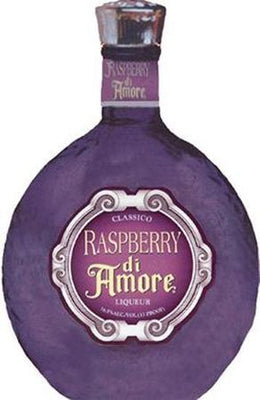 Customer Reviews
Write a Review
Ask a Question
di Amore Liqueur Raspberry 0 750ml
I love this stuff! I originally always used Chambord but because of the price I could only get it on very rare occasions. Chambord is truly the 5 star raspberry liqueur but the difference in taste is so minimal this gets 5 stars as well. I would venture to say that unless you are drinking these straight you won't notice the difference between the two.
WE'RE ON INSTAGRAM