David Nicholson Bourbon 1843 |
Regular price
$36.97
Sale price
$29.97
Unit price
per
Sale
SOLD OUT
This bourbon, bottled at 100 proof, is extra aged for a more robust flavor and a full-bodied long finish. It has a woody, smoky tone on the palate with a spicy, warm finish. For those seeking more flavorful bourbons with an authentic brand heritage.
Soft, reserved nose. May need a rest in the glass to open up. Corn-forward with some dry, dusty whole wheat bread. A stale spice of some kind — cardamom perhaps. Very shy for 100 proof. I was wrong – even a rest does not add interest to the aroma.
Medium-bodied. Sweet wheat, cakey and accompanied by cherry coulis. Pleasant, and not overly hot. A brief impression of mint, a reprise of tart cherry, and vanilla cake fading to faint oaky dryness. Not bitter.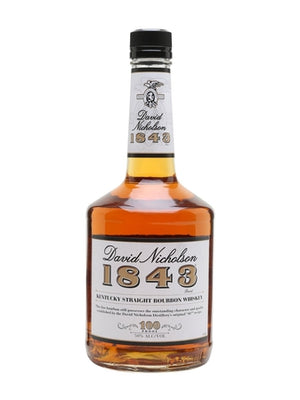 WE'RE ON INSTAGRAM