Regular price
$67.97
Sale price
$47.95
Unit price
per
Sale
SOLD OUT
(90-95) Points - Wine Enthusiast:
Corzo's unique distillation process is, at the very least, exceptionally complicated. It starts with blue agave from a region known as Los Altos located a mile above sea level. This area is blessed with a more moderate climate than most of Jalisco as well as rich red soil, allowing for a sweeter agave fruit. Unlike many other tequilas, Corzo uses only the nectar extracted after five hours of roasting, well after sour elements from the skin are fully eliminated. Corzo then uses a unique strain of yeast and goes so far as to play soothing classical music through the fermentation process. After the spirit is complete, it undergoes a unique process that introduces microscopic air bubbles to allow it to breathe before bottling.
While all of this sounds a little over the top, it's hard to argue with results. Corzo Tequila Silver is simply an excellent Blanco particularly well-suited for sipping. Aromas of black cherry, pineapple, grapefruit, mineral, vanilla, and black pepper introduce a creamy, delicate, full-bodied, almost sweet palate that evolves as you sip. Bottled in a gorgeous package designed by renowned art director Fabien Baron, believe it or not, it tastes even better than it looks.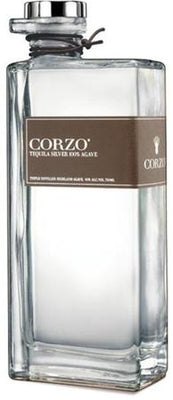 WE'RE ON INSTAGRAM