Centenario Ron Rum Anejo Especial 7 Year |
Regular price
$28.97
Sale price
$26.97
Unit price
per
Sale
SOLD OUT
Very Smooth (on the RnD scale of Harsh-Smooth-Very Smooth-Extremely Smooth).Centenario AA ejo Especial shows very dark in the tinted bottle, but light amber with copper tones in your glass. Aromas are delightfully light, of sweet of brown sugar and earthy tones of cane and grass, raisin, papaya, new barrel oak, light clove, and nothing offensive from the alcohol. Initial tasting reveals young but mature flavors, delicately sweet like raw cane, but not so much as to be cloying. A dry medium body has no overweight flavors to spoil the blend. A sweet finish shows just a hint of warmth, with a bit of caramel and vanilla.Centenario's Añejo Especial is packaged in an attractive, dark brown muscular bottle, broad shouldered with a large diameter neck, embossed with dual crests of the Centenario distillery, and a simple but dignified label. Under the wide screw cap you'll find a built-in pour limiter. This molasses based rum is aged in used oak bourbon barrels and blended to achieve consistency with its moderately complex flavors.
Dave - Centenario's Añejo is a versatile rum: inexpensive enough to drink frequently, flavorful and complex enough to satisfy repeatedly. Its style and taste are pleasant, characteristic of medium-aged rums from southeastern Central America. Añejo Especial is a solid rum within Centenario's portfolio, positioned and priced below their excellent Fundacion rum.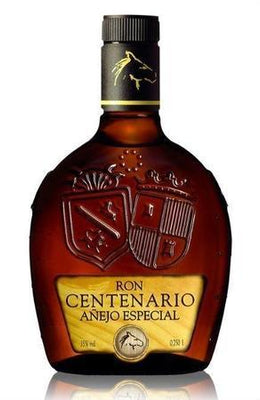 Customer Reviews
Write a Review
Ask a Question
08/15/2019
Patricia W.

United States
My husband and son just
My husband and son just love it,that's why we bought it again. They love rum. We will order it again.
WE'RE ON INSTAGRAM