IT'S ALL IN THE DETAILS
Developed over 100 years ago by the Bosca family, the recipe for this wine-based Amaro is a true expression of Piemonte tradition. It is created by infusing Cardoon, Blessed Thistle and other botanicals into the family's estate wine, which is then rested in new oak for at least six months. The result is a rich, smooth liqueur with wintry notes of fresh pine, roasted nuts and dried fruit, tied together by a subtle smokiness.COLOR: deep amber with shiny glintsSCENT: intense and complex as a result of the blendof the different extractions and of refining, with sharp spicy and artemisia shades.FLAVOR: sweet, full and balanced. Sweetness is well balanced by the bitter hint that is wholly perceived in the long finish. The aftertaste is spicy and aromatic.ALCOHOL: 17% volSUGARS: 170 g/l
Developed over 100 years ago by the Bosca family, the recipe for this wine-based Amaro is a true expression of Piemonte tradition. It is created by infusing Cardoon, Blessed Thistle and other botanicals into the family's estate wine, which is then rested in new oak for at least six months. The result is a rich, smooth liqueur with wintry notes of fresh pine, roasted nuts and dried fruit, tied together by a subtle smokiness.COLOR: deep amber with shiny glintsSCENT: intense and complex as a result of the blendof the different extractions and of refining, with sharp spicy and artemisia shades.FLAVOR: sweet, full and balanced. Sweetness is well balanced by the bitter hint that is wholly perceived in the long finish. The aftertaste is spicy and aromatic.ALCOHOL: 17% volSUGARS: 170 g/l
QUESTIONS & ANSWERS
Have a Question?
Be the first to ask a question about this.
Ask a Question
CUSTOMER REVIEWS
Customer Reviews
Write a Review
Ask a Question
01/11/2021
Anonymous

United States
Takes forever to receive
Love the product but twice now it's taken well over a month to receive.
08/01/2020
Timothy A.

United States
Great service
Very fine experience overall.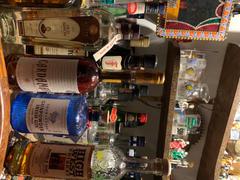 Shipped & Sold by Wine Chateau