Ultimate Beverage Challenge 93 points - Aromas of dried apple, white peach, and subtle caramel are pleasant on the nose. Subtle sweetness is upfront, accentuating the silky texture and bringing flavors of yellow cake, stewed peaches, and subtle brown spice. This cognac lives up to its name. - 2018 Ultimate Spirits Challenge (Great Value).April/2018
CAMUS VSOP Elegance is a Cognac rich in mellow, fruity aromas. For the VSOP Elegance, Maison CAMUS selects aromatic eaux-de-vie partially distilled on the lees, including some from our famous Borderies cru, to strengthen the aromatic richness of this Cognac as it ages. Aging in oak barrels specially selected by CAMUS ensures a great mellowness of character and richness of flavor, accented with delicate woody notes. The barrels used are medium toasted, preserving the original aromas of the eaux-de-vie and producing a Cognac with admirable poise and balance. Drink straight over ice or long. CAMUS VSOP Elegance is the preferred choice of bar professionals worldwide as the base for premium cocktails.
The result of many years of experience, the expertise of this eaux-de-vie distillation process partially on the lees is specific to CAMUS. The technique, requiring generations of research and refinement, gives CAMUS cognacs their signature style and enables us to extract greater aromatic potential from the base wines.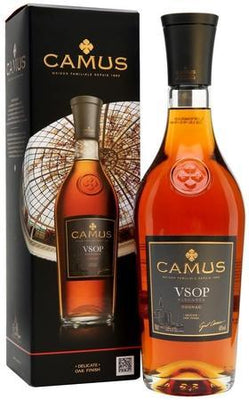 Customer Reviews
Write a Review
Ask a Question
01/05/2020
Anonymous

United States
Delivery was timely
It was delivered on time and exactly the drink I expected
WE'RE ON INSTAGRAM