Bushmills Irish Whiskey 10 Year |
Regular price
$61.97
Sale price
$49.95
Unit price
per
Sale
SOLD OUT
Bushmills 10 Year old malt is triple distilled from 100% malted barley and matured for a minimum of 10 years in Bourbon-seasoned barrels. On the nose, this whiskey comes across as fresh and zesty with notes of honey and ripe fruit. The palate is soft, with hints of vanilla, milk chocolate and toasted wood with a crisp, clean, gently drying finish.Bushmills is one of the world`s oldest distilleries having been founded in 1608. It is the only distillery in Northern Ireland. Bushmills is distilled in the same kind of copper pot stills that you find in Scotch Malt whisky production. It is distilled three times for increased smoothness. Bushmills Original is a blend of Bushmills Malt Whiskey and Irish grain whisky. It is the cornerstone of the distillery`s production and is clean with touch of honied sweetness and vanilla character.
It is this spirit the inspiration of many legends such as the St. Patrick's, the patron of Irish Whiskey, who taught people how to distillate the spirit. Whiskey dates back to the 15th Century when it was produced by the Monks with the only objective to create a medicine for "healing purposes". It was also produced by farmers in order to make a good use of remaining grains after the harvests.Nose: Fragrant maltiness with a gentle toasted wood background, and a delicate fruitness.
Palate: Malty with sweet, spicy, vanilla and oaky notes.
Finish: On taste, it is complex, spicy, slightly dry, with a lingering delicate maltiness. A gentle, approachable whiskey, for drinking any time, on its own or on the rocks, and its light taste makes it an ideal base for cocktails.
40% abv
Customer Reviews
Write a Review
Ask a Question
Filter Reviews:
Torini
Caramel sugar
Irish
coffee
06/04/2020
paul g.

United States
Bar restock.
Sunporch! Iced Irish coffee! Perfect afternoon drink!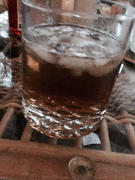 05/08/2020
Anonymous

United States
Re-order.
Required For Porch Irish coffee. With Torini Caramel sugar!
WE'RE ON INSTAGRAM