IT'S ALL IN THE DETAILS
Wine Spectator 93 points - A vibrant version in a sleek, finely knit package. The creamy mousse carries flavors of ripe black cherry and cassis fruit, with details of ground ginger and clove, mandarin orange peel and smoky mineral. Savory finish. Drink now through 2021.-A.N..May/2016
Since November 2014, Armand de Brignac has been the Champagne brand of rapper and music producer JAY-Z. The five non-vintage cuvees, which are sold in opaque metallic bottles and at absolutely crazy prices, are produced by father and son Jean-Jacques and Alexandre Cattier from Champagne Cattier who started releasing de Brignac in 2006. The fruit-Pinot Noir, Pinot Meunier and Chardonnay-comes from vineyards owned by the Cattier family and from growers in selected villages across the region. For Armand de Brignac, colloquially known as "Ace of Spades," only the tete de cuvee of the press is used, so the very finest part. Each cuvee assembles three vintages and is dosed with matured wines aged in oak barrels. Aged for several years on the second lees, the wines are intense, powerful, well-structured and of excellent quality. - Stephan Reinhardt, 237, The Wine Advocate, 29th Jun 2018
Support Black-Owned Wineries by purchasing this wine!
Wine Spectator 93 points - A vibrant version in a sleek, finely knit package. The creamy mousse carries flavors of ripe black cherry and cassis fruit, with details of ground ginger and clove, mandarin orange peel and smoky mineral. Savory finish. Drink now through 2021.-A.N..May/2016
Since November 2014, Armand de Brignac has been the Champagne brand of rapper and music producer JAY-Z. The five non-vintage cuvees, which are sold in opaque metallic bottles and at absolutely crazy prices, are produced by father and son Jean-Jacques and Alexandre Cattier from Champagne Cattier who started releasing de Brignac in 2006. The fruit-Pinot Noir, Pinot Meunier and Chardonnay-comes from vineyards owned by the Cattier family and from growers in selected villages across the region. For Armand de Brignac, colloquially known as "Ace of Spades," only the tete de cuvee of the press is used, so the very finest part. Each cuvee assembles three vintages and is dosed with matured wines aged in oak barrels. Aged for several years on the second lees, the wines are intense, powerful, well-structured and of excellent quality. - Stephan Reinhardt, 237, The Wine Advocate, 29th Jun 2018
Support Black-Owned Wineries by purchasing this wine!
QUESTIONS & ANSWERS
Have a Question?
Be the first to ask a question about this.
Ask a Question
CUSTOMER REVIEWS
Customer Reviews
Write a Review
Ask a Question
Filter Reviews:
champagne
occassion
de noirs
semi-uniqueness
availability
55356
winery
buying
customer service
products
07/07/2020
Brandon H.

United States
Nothing better
Simply, an excellent bottle of champagne. Sought out because of the semi-uniqueness of a blanc de noirs, especially from this winery, it didn't disappoint. Low availability drove the price up, even while I was searching and buying, but it was the best bottle I have ever had and perfect for a special occassion.
03/15/2020
Pascal B.

United States
Armand de brignac
Great customer service great products exclusive champagne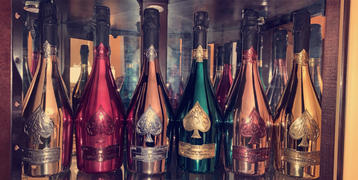 Shipped & Sold by Wine Chateau