Regular price
$52.97
Sale price
$49.97
Unit price
per
Sale
SOLD OUT
Wine Enthusiast 96 points - This vodka is simply clean, from the mildly sweet aroma to the crisp finish. The palate holds pleasant notes of marshmallow, grapefruit peel and chalk give way to a faint vanilla-citrus exit. Made from single-estate grain distilled in a 1921 copper column still, this is an ideal companion for pretty much anything served in a martini glass..Kara Newman, February/2015
ABSOLUT ELYX is manually distilled in a 1921 copper rectification still known as Column 51, made entirely of copper. It is operated by a selected few who inherited their knowledge and expertise from past generations of spirit and vodka makers.Our silky textured vodka is a result of the single estate wheat, the manual operation and the old copper catalyzation process. The copper naturally catalyzes trace compounds in the spirit, purifying the vodka and adding a highly prized silky texture and taste.
Winter Wheat, Single Estate, Copper Crafted; 42.30%
The indisputable king of cocktails. An Elyx Martini is the perfect way to celebrate the rich and silky mouthfeel of our luxurious spirit in a mixed drink. Stir over ice and serve chilled in a cocktail coupe, either wet or dry, and with a lemon twist.Dry: 10 parts Absolut Elyx, 1 part Lillet BlancWet: 2 parts Absolut Elyx, 1 part Lillet Blanc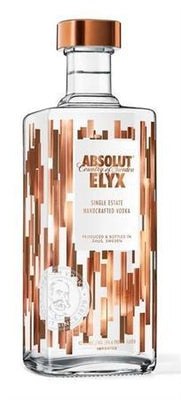 Customer Reviews
Write a Review
Ask a Question
My go to for Martinis
I was introduced to Absolut Elyx by a friend owning a bar in Brooklyn and now this is my go to vodka for all my martinis and most vodka cocktails. Great smooth taste!
WE'RE ON INSTAGRAM